Machine Pistol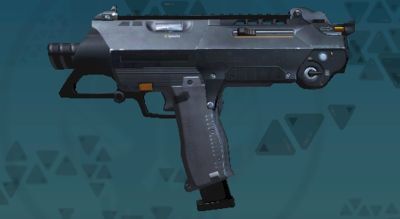 The Machine Pistol is a low-powered, fully automatic secondary weapon. It has an extremely fast fire rate, having the highest of any weapon in game so far, but suffers poor accuracy and has a high spread and recoil penalty. As its damage is on par with the Sub Machine Gun, the Machine Pistol can be treated as similar to a second primary weapon, and is a good secondary for Agents using a longer ranged primary. It also has the highest ammunition count of all secondary weapons, rivaling the Primaries with a maximum ammunition count of 30/120 with the extended magazines.
---
The Machine Pistol is very unreliable at range, but is very effective in close quarters. Due to its straight upwards recoil and unpredictable spread, it is best to spray at an enemy.
Standard Basic Classic

| | |
| --- | --- |
| DAMAGE: 35 | FIRERATE: 850 |
| AMMO: 20/80 | RELOAD: 1.83s |
| ZOOM: 1.30 | SCOPE IN: 0.22s |
| SPREAD-AIM: 2.29° | RECOIL: 5.36° |
| SPREAD-HIP: 4.58° | RANGE: 10/50 |
| SPREAD-MOVE: 4.73° | RUN: +0.30 |
---
This item cannot be purchased using GP unless the character is level 26 or higher.
---
This is a list of premades, both current and past.
---